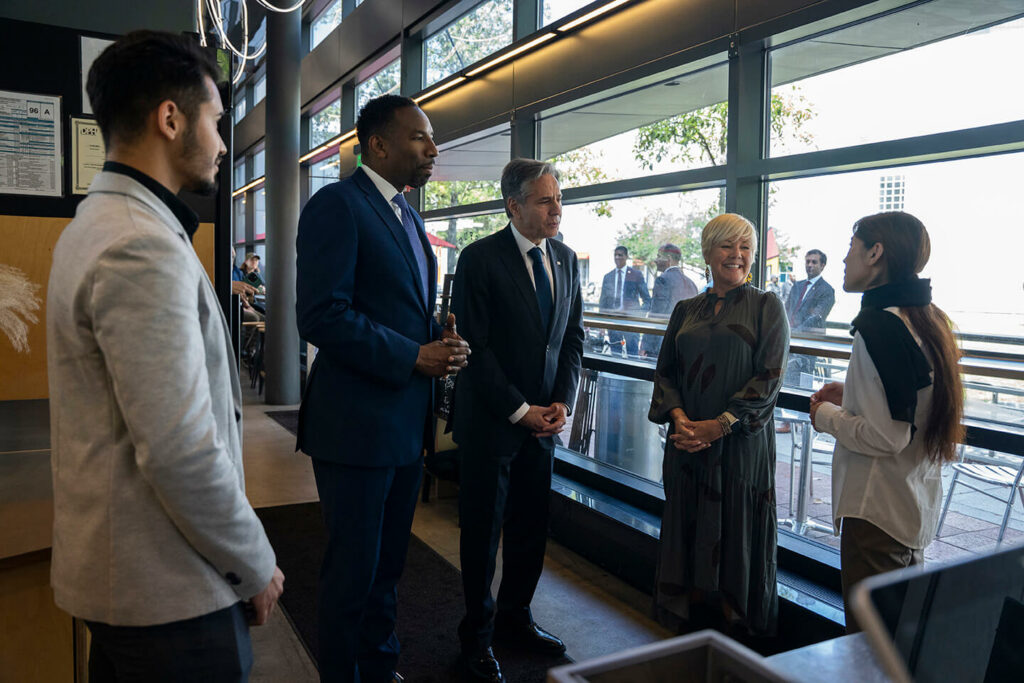 MAYOR DICKENS: The city of Atlanta is grateful and excited to be able to welcome the Secretary of State here to our beautiful city. Atlanta is indeed an international city, one with global reach, the cradle of the Civil Rights Movement, and the home to the world's busiest airport. But we're also home to a lot of asylum seekers, a lot of immigrants and refugees, people that are seeking a home. And Atlanta is opening and welcoming to them.
And so an international city, and to make sure that we continue that growth and making sure it's a city that has opportunities for all, I'm delighted to be here with Secretary of State here. And I'm glad he chose Atlanta to come talk and meet some wonderful people here at Refuge Coffee, and the citizens of Atlanta are just thankful.
Thank you, Secretary.
SECRETARY BLINKEN: Mr. Mayor, it's so great to be with you. It's wonderful to be in Atlanta. As the mayor was saying, this is such an international city. It's one of the reasons that I'm here. As the mayor was saying, you've got the busiest airport in the world. You've got so many people coming here from around the world who want to experience Atlanta – I think the mayor was telling me more a million visitors a year. And the work that the mayor is doing, the city's doing to make Atlanta a hub – an international hub – for commerce, for culture, for innovation – is a very powerful thing. And we want to be a part of that.
We've been really excited, too, to spend time at some of the incredible schools that are here – HBCUs this morning, Georgia Tech this afternoon. And my mission also is to urge people to continue to be even more connected internationally, and also maybe to get some people into public service, and State Department included.
But we're also here, as the mayor said, at this wonderful institution, Refuge Coffee, that's giving a platform to new arrivals to our country to get some skills, to get some training so that they can better integrate the country. We've met with some refugees who are here working at Refuge Coffee from Afghanistan, from Syria. We both know – and we were just talking about this – that the entire history of our country is welcoming people from other countries. Every single one of us, unless you're a Native American, came here from somewhere else. And the work that Atlanta's doing to support that, to support refugees as they get integrated, is something that we're proud to partner with at the State Department.
So Mr. Mayor, thanks for having us here today. It's great to be here.
MAYOR DICKENS: Thank you for being here. Thank you.
SECRETARY BLINKEN: Thanks, everyone.