The Woodruff Arts Center is pleased to announce that Refuge Coffee Midtown, located on the Arts Center's campus, has invited visual artist and muralist Teresa Abboud to illustrate a thematic and all-inclusive mural on its storefront windows.
The Woodruff Arts Center welcomed Refuge Coffee onto its campus in early fall of 2021. The Arts Center leadership felt that a partnership with the fellow nonprofit would be mutually beneficial considering the organizations' complimentary missions to provide access and education. Founded in Clarkston, Georgia, Refuge Coffee offers jobs, job training and mentorship programs for resettled refugees or immigrants with a portion of every sale going towards competitive wages and training for those in the program. Equal access to art and arts education is at the core of the Arts Center's philosophy. The new mural reflects the collaborative efforts of the café and the Arts Center to be a safe and welcoming space for all.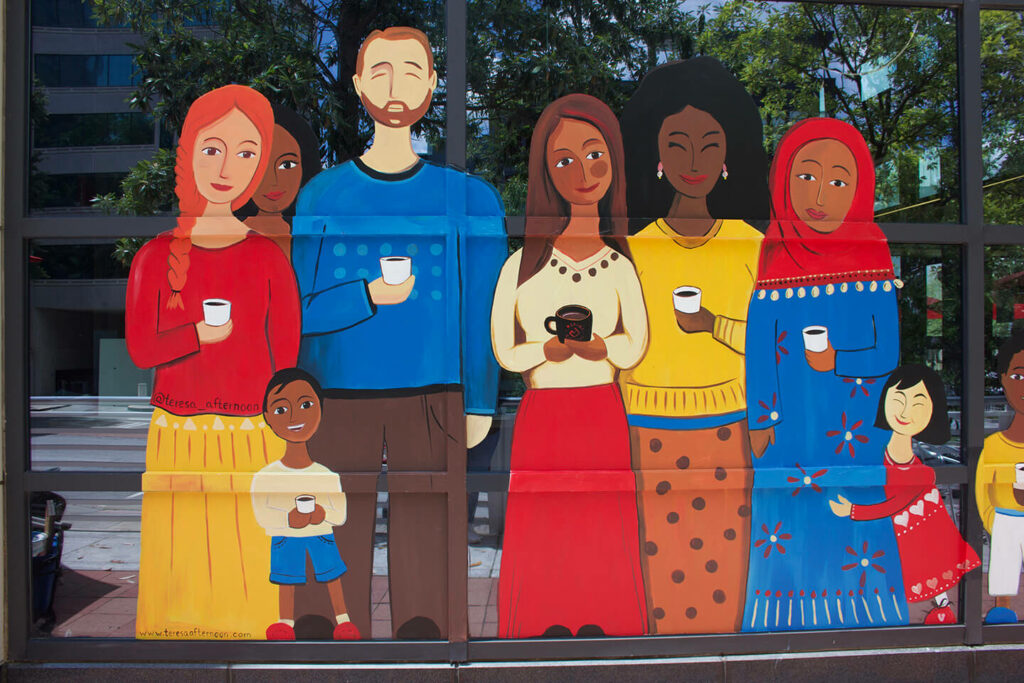 Artist Teresa Abboud's vision coincides with the message of inclusion, making her the perfect muralist to execute this project. Her relationship with Refuge Coffee is intimate, as she has worked on several murals for the Clarkston location, including an indoor mural painted with espresso. The concept of her design for the Midtown location perfectly visualizes the Arts Center's goal to host a space in the center of the city that is open to all. An immigrant from Lebanon, Abboud has a certain nostalgia for drinking Lebanese coffee with her mother, which inspired her first collection of murals depicting the universal beverage as a symbol of human unity. A continuation of this theme, the new mural will present a diverse group of people drinking coffee together. Coffee is not exclusive to any demographic and likewise, both Refuge Coffee and the Arts Center value inclusivity and community.
As the people of Atlanta begin to make their return to public life, rejuvenations to the Midtown area are gaining momentum. In accordance with the particular interest in new public art partnerships, street-level improvement projects, and a deep-dive on the emerging culture shift toward open-air gathering spaces, this mural is one of the many ongoing initiatives to increase the Woodruff Arts Center's involvement in the surrounding community. It is proud to contribute to the vibrant visuals that enhance a street-viewing experience.
"We have made it a priority to work to enhance our physical ecosystem," said Hala Moddelmog, CEO of the Woodruff Arts Center. "The Arts Center is more than just our buildings, we are providing a place for our community to experience and create their own art. The addition of a mural on campus will boost emotional connection to the community we occupy and serve."
Painting will commence (date), and Abboud will paint the mural on the windows of Refuge Coffee facing Peachtree Street.
For details on the Woodruff Arts Center and Refuge Coffee, please visit:
https://www.woodruffcenter.org/